Personally, I cannot stand cold feet! I also have a small obsession with boots but finding the right winter boots that are stylish and keep your feet warm can be really hard! After a ton of searching, I have come up with an amazing list to help you find a pair of stylish winter boots that will keep your feet warm and dry!
Best Fur-Lined & Shearling Boots
You guys know that I can't help but show you my favorite things first. Fur- lined and shearling boots are by far my favorite category of winter boots due to their trendy style and warmth factor. 
Sorel is known for making the best winter boots. This Canadian brand specializes in creating shoes that are made for cold, wet temperatures, but with style. One of their most popular winter boots is the Joan of the Arctic.  I can see why too! These boots can withstand temps as low as -25, they are waterproof and have a beautiful faux-fur trim. They come in several different colors are these boots are definitely on my wish list! These can definitely have earned the title of warmest winter boot for women as well.  

UGG has come a long way since the days of the classic surfer boot.  This wool-lined boot has over 6oo five star reviews! They are waterproof and will protect you in frigid temps as low as -32. 
These boots are so loved that they don't stay in stock! They come in a few colors (although most colors may already be sold out) and my fingers are still crossed that they bring the beautiful blush color back!  The best advice I can give if you want these boots is to keep checking J. Crew's website or follow me on the LIKEtoKNOWit app where I am always posting the latest sales and restocks!

These shearling boots are one of the best selling boots for 2020! With the trendy combat style, I can see why plus they have amazing traction! They also have them in black. 
Best Tall Winter Boots

Hunter is known for its classic rain boots. They last for years, and I can attest that their quality is amazing! You can see me wearing the classic red ones here. I have two pairs, both of which I wear all the time. This pair is over ten years old and still looks amazing, while the classic red is closing in just under 8 years. I have literally stood in a river and they have kept my feet nice and dry. I will say this though. They are a rain boot NOT a winter rain boot and your feet will get cold in lower temperatures, which is why I suggest buying their boot socks and shearling linings.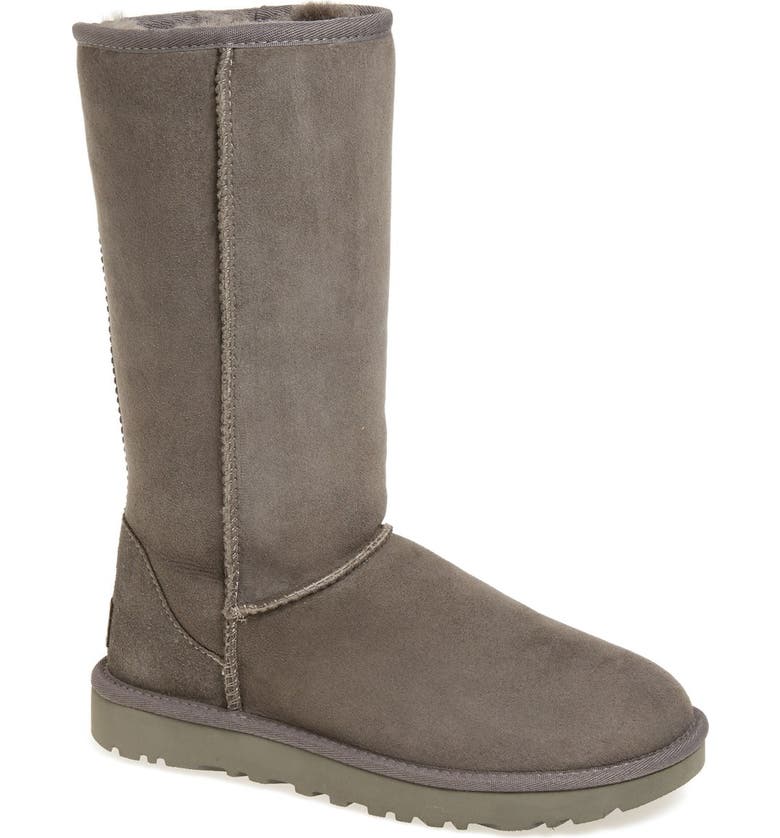 What kind of "winter boot roundup" would this be if I didn't include the classic tall UGG boot?! These are the boots, that I wear all winter long when it's not raining. They keep my feet so incredibly warm! For those who have been around this blog for a while, know what I practically live in my UGGS from October to March. While some people still argue that they are ugly, I could care less. They (all) still look brand new after wearing them for years and they do exactly what they are supposed to do – which is keep my feet nice and cozy. 

These boots are completely waterproof and are under $200. 
Best Wedge & Heeled Winter Boots
For those of you, who are brave enough to wear heels or wedges in the winter, might want to try this pair out! They are durable, warm, and have deep grooves on the sole to make walking in snow and ice easier.  There is also a plain black pair if you aren't feeling the shearling-lined. 

These will keep you warm and have a cushioned footbed so you can wear these chunky heeled boots all day long! They also have a zip-up side so there is no need to tie and untie every time you wear them which is a huge time saver1
Winter Boots Under $100

Coming in at just $75 these botos are cute and budget-friendly! Just a warning though, size up! They tend to run slightly narrow. 

These boots are an amazing Amazon find and are less than $50! There are over 4,000 reviews for these boots and they come in 12 different colors. They will keep your feet warm in -25 degree weather too!

These trendy shearling-lined boots are under $50, come in 14 different colors, and have a 4.5-star rating!
Helpful Tips On How To Chose The Right Winter Boots
Picking out the right winter boot can be really hard, especially when seeing all of the amazing options above! I created a little guide to help you chose the right winter boot that is perfect for you!
1. Think about where you will be wearing them and what you want them for – This may seem obvious, but take a few minutes to think about the practicality of the shoe you are looking for. Those super cute high fur wedges might not be the best option for icy trails, but perfect for maintained city sidewalks! If you are heading on a ski trip with deep snow then opt for a pair of tall waterproof boots vs short suede booties. 
2. Consider the Material – Look at the upper and lower material of the shoes, which are the sole and the "upper material." The upper material is what covers the top of your foot as well as the ankle. If you are looking for waterproof consider nylon or leather as well as pretreated waterproof finishes such a DryTech. When looking at the soles, consider if they will keep you dry and notice the grooves on the bottom. 
3. Look at the inner fabric – You want to find boots that have great insulation! Without insulation, there is no way to stay warm! Wool is a great material. It is thick, keeps you warm, yet is very breathable. Also look for Thinsulate, which is a synthetic material that keeps you warm and dry.
4. Terrian- While this kind of goes with the "think about where you will be wearing them," it is important you consider the type of ground you will be walking on. Icy city streets are incredibly different than a snowy hiking trail. If you are hitting the trails, check that your winter hiking boots have deep grooves and spikes that will help you grip the snow and ice.
5.  Check out the tongue and boot shaft- Check out to see if your boots have a "gusseted tongue." All this means is that the boots "tongue" ( or the part that covers the front of your foot where the laces are) is attached to the side of the boots so that no snow or ice can slip inside. This keeps your feet nice and cozy! Last, but not least, consider the boot shaft or how tall your boots come up. Higher boot shafts will keep your legs warmer and dryer! High shafts may not be needed though if you are going from a car to a restaurant quickly without a ton of walking. 
I would love to know what your favorite pair of winter boots are! I hope you found that this guide is helpful!
All My Love,
Michelle Marie